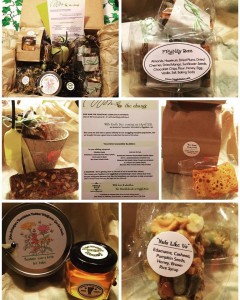 April saw the arrival of our latest GiggleBox collection – themed for what we consider one of the most important topics around: the planet. With Earth Day fast approaching (for those who just asked themselves "When IS that?" – it's April 22) – we took our GiggleBaking in a little more "wholesome" direction this month. It gave us a chance to focus on recipes and ingredients that clearly display the amazing bounty of harvests our planet provides us with – every year, every season. At least, until we use it all up – which I believe we all know really can happen if we don't become better caretakers of the land, air, and water. (But that's a speech for another day.)
We now return you to our regular programming . . .
During our 6-month beta period (this is GiggleBox #4 in that program) – we've been working hard to refine the GiggleBake concept. We've shared some Surprise Mini-Giggles with many of our Insider List members (if you're not on that list, you can join by clicking here) – we've upped our game for the GiggleBake10 prototypes, and we're close to finalizing the details with our ordering process.
Our GiggleBake10'ers have been happily sharing the news about their GiggleBox (which we are THRILLED to see! Thank you GB10'ers!!) –  and we've received many inquiries like this:
"How can I tell my friends and co-workers how they can order one, too?"
Here's the answer to that increasingly popular question:
First off – for those who haven't taken a recent look at our website (Yes! It's New and Improved!) – we do offer a limited number of Solo GiggleBoxes for each month that we will send out in addition to our GiggleBake10. (It is a very limited number, however – so this is not an "I'll think about it and decide later" purchase if they're really interested.) As we explain on the website, for now – the contents are free – but getting them to the recipient is currently a $30 charge. (read between the lines here) Please note, though, that our next Solo GiggleBoxes will be available for our May collection.
Beyond that, our current plans are to continue the behind-the-scenes "taking care of a million details" tasks – in addition to the planning and preparation of our May and June GiggleBoxes.
Changes and improvements will continue to be made to our website during that time.

We'll be working towards building our list of GiggleBake Insiders to notify when we're ready to make The Big Launch.

And our strategy for the future will continue to be shaped and (knowing us) forever evolving.  We'll keep you notified here when those big changes take place.
IN THE MEANTIME . . . if you've been searching for the right elevator speech you can share with those who ask you:
"What the heck is a "GiggleBake?"
. . . here's your sign:
It's a subscription service to an Amazingly Creative and Surprising Box of Tasty Fun that is Alway New, Always Different, Always Themed, Always Fresh, Always Delicious, and Always Brings a Smile and a Giggle to the lucky duck who gets one. You just can't wait to see what's going to be arriving in your mailbox next! It's a fabulous surprise to get for yourself each month – and it makes an even better gift! They're going to be launching soon – so if you want to make sure you get Priority Treatment when they do, sign up to become a "GiggleBake Insider" on their website (GiggleBake.com).
And yes, you CAN say that all in one breath if you try really hard.
Any of you GiggleBake10'ers have a better description? We'd love to hear it – so post it below! Like we said in the very beginning – this is your chance to share your two-cents. (Just imagine – it's like you could have had input on how they made Oreos! Or more accurately, Hydrox Cookies.) 
As a final tip o' the cap to Earth Day – we'd like to remind you about the first two (of probably many more to come) of our ingredient policy mainstays:
 Always and Exclusively: King Arthur Flour.  (If you don't know about King Arthur's social responsibilities policies and their company culture, we invite you to visit their website to learn more about why we made this decision.)
We will use only ethically-sourced chocolate in GiggleBake products. We currently utilize only chocolate, cocoa, and cocoa butter exclusively from Guittard. It it our hope that the cocoa industry will continue to improve its efforts to eradicate slavery from its practices. Until that happens industry-wide, however, we will be very selective about our chocolate sources.
As our Earth Day GiggleBox asked of our participants — Bee the Change.
Stay with us on our GiggleBake journey — we're going to make this happen!