No one ever asked my opinion, but I seriously believe when you have to travel,  you should just automatically be given an extra 12 hours in each day. Because how else are you going to get time to play hooky during a long on-the-road-workday to  visit a place like this?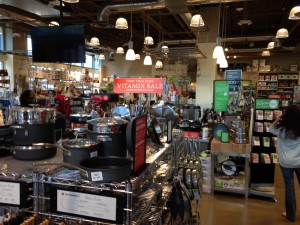 (Honestly – who needs Tiffany's when you can spend a few hours at Sur La Table at Downtown Summerlin in Las Vegas?)
But over the past days (and since the receipt of the latest GiggleBake Box by our beta participants), we've been whittling words away to more easily share our vision and concept of The GiggleBake Box. (We'll keep whittling . . . and we look forward to your suggestions for improvements, too. But here's a little something you can cut-and-paste in the meantime when you hear the question: "What IS a GiggleBake Box, anyway?")
How does The GiggleBake Box work?
It's a monthly subscription-based package of freshly-made and baked items, theme-based, a little quirky, and accessorized with unique add-on products and decor.

The GiggleBox is different each month and everything inside is meticulously (and secretly!) planned by the Chuckleheads at GiggleBake.

The anticipation of wondering "What will be in my GiggleBake Box THIS month?!"  (and the surprise of discovering the answer when it arrives at your door) is our defining characteristic.

That's why it's a fantastic gift to yourself each month – and an

absolutely awesome gift to give others

!
When we launch The GiggleBox to the public (tentatively scheduled for August 2016 and in time for holiday season planning – hint, hint!), 1, 3, 6, and 12-month subscriptions will be available for purchase online.
In our current beta program, we ship a GiggleBake Box once per month to our "GiggleBake10" (our beta program participants) – as a sample of what the subscription service will be (that would be: Creative, delicious, fun-in-a-box…with attention to every detail.)
Future plans (at a date to be determined) include offering an option for various specific dietary GiggleBake Box subscriptions (sugar-free, gluten-free, etc.) – but the basis will be the same: The fun and excitement of receiving your next GiggleBake Box and being delightedly-surprised with what's inside! 
​We look forward to sharing more news as we get closer to our public launch date. If you haven't already, subscribe to become a GiggleBake Insider – and you'll receive the latest updates as they're released. Stay tuned!