The Who-What-When-Where-Why-&-How of GiggleBake
Read on to discover how dedicated we are to freshness, ingredients, cute-ology, and cleverness.
Who Are These Chuckleheads, Anyway?
We have a dream. (Oh wait, someone already used that line.). Well, in that case . . .
We could tell you about the reasons that led us to starting GiggleBake.
We could tell you how we've nurtured a passion for baking and cooking all our lives.
We could even tell you if we're dog or cat people.
But what we'd like to tell you is this:
We love the surprise and joy that appears when someone opens a GiggleBake Box.
That our favorite thing is seeing that moment of pure bliss when someone bites into one of our creations.
And we simply thrive on the anticipation and excitement that waiting for the arrival of your GiggleBake Box creates.
Of course, those three things happen in reverse order – but that's okay. Because – as part of our Ridiculous Plan to change the world from our tiny little kitchen – every part of that process brings a smile, a laugh, maybe even a giggle to someone's day. And oh man, does our world need more of that.
That's what we're about, just being a little ray of tasty, adorable sunshine you can add to your life – or gift to someone you love (or maybe even just like). We think we summed it up in our name pretty darn well: GiggleBake. It's our 'happy place' – and we're just doing our bit to share some 'happy' with the world.
The Original GiggleBake "Surprise Theme" Box
At least four excitingly tasty offerings (depends on how carried away we get)
Most often packaged in single (and adorable, if we say so ourselves) servings
That last point makes them easily "shareable" (because trust us – you'll definitely be making new friends with each GiggleBake)
Often with a Unique Giggle we've found to share with you. (Hint: You just never know how special that will be.)
And a special message direct from the demented minds behind this nefarious scheme known as "GiggleBake."
It really is "The Whole Package." If by that, you mean the most fun you can have with a Boxful of Giggles.
Available:
Monthly
Every-Other Month
Try It! One-Time Purchase
All orders include free shipping and can be cancelled at any time. (Does it get any better than that?)
The Original "Surprise Theme" GiggleBake Box:
Ships Monthly, Every-Other-Month, or purchase a "Try It!" box.
Available by subscription.
Each box is a new and different theme – new recipes and products/accessories.
Billed for each shipment on the 1st of the shipment month.
Order Due Date: By the 1st day of the shipping month. (after the 1st, it rolls to the next month)
Ships during the 2nd full week of that month.
Free shipping
GiggleBake works from a fully licensed and insured bakery, we are registered with the FDA and maintain an "A" rating from the Southern Nevada Health District. Located in Las Vegas, Nevada, we prepare our products in a leased, commercial kitchen. In other words, we're totally trained, legal and legit – so no worries here!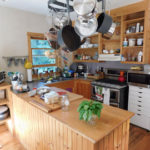 Did you ever just figure it was time to do the thing you love – and the heck with everything else? Yeah – that's us, too. Our "Happy Place" is in the kitchen, creating masterpieces and disasterpieces (hey – test baking is hard work!). But there's only so much you can eat yourself – and we ran out of friends and family to give things to. So from our tiny Vermont kitchen…and now all the way back to Las Vegas, Nevada…we're chasing the dream.
The source of our ingredients, where they come from, what they contain, and how they're created – all these things are critical to the GiggleBake process. To put it simply, we have a commitment not only to our customers, but to society as a whole. That's why we seek out sustainable, ethically-sourced ingredients to make GiggleBake goodies whenever possible. That said, we'd like to share some important points of our philosophy, and how this commitment affects our customers.
The fewer ingredients, the better. That's not to short-change you – but rather represents our desire to seek out and find the purest – preservative and additive-free – ingredients that we use in each of our baked goods and candies. Our rule of thumb is this: If we get bored reading the list of ingredients that go into making a single baking ingredient – we'll seek out alternatives (and trust us, we get bored easily!). If we're not satisfied with what's available to buy commercially, we'll create as many of the individual ingredients that we can – from scratch. It may take longer, but the end results (and the knowledge that we're "keeping it real") are worth it.
The better the ingredients, well – the better! An awful lot of commercially-sold bulk ingredients made for food establishments have one priority: Cost. We can appreciate that because sure – money matters. But GiggleBake began as a passion for us, from a desire to gather real, whole products and turn them into something delightfully ethereal for our family and friends. We believe that doing anything less for our customers would (or should) be downright criminal. (Yes – we take this part very seriously.) So we'll seek out better ingredients for those things that matter. Higher quality (and often organic) butter, ethically sourced flour, slavery-free chocolate, organic eggs and spices, fresh fruits – and that's just for starters. And yep – it's going to cost more. We're firm believers, though, that you get what you pay for. It's the price of being exceptional – and that's what we prefer to be.
Small batches = Big results. Did we mention that we make every single GiggleBake item ourselves? That means real people have put their love of baking directly into every GiggleBite you enjoy. We don't use the resources of a factory or assembly line to create thousands of uniformly-shaped, precision items at a time. We knead the dough, pit each cherry, stir the caramel – all by hand, in small batches, with plenty of personal attention. If there's a better description of "artisan" than that – we couldn't tell you what it is.